ger·ry·man·der
/ˈjerēˌmandər/
verb
gerund or present participle:
gerrymandering
manipulate the boundaries of (an electoral constituency) so as to favor one party or class.

achieve (a result) by manipulating the boundaries of an electoral constituency. "a total freedom to gerrymander the results they want"
Origin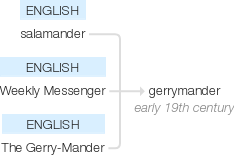 Early 19th century: from the name of Governor Elbridge Gerry of Massachusetts + salamander, from the supposed similarity between a salamander and the shape of a new voting district on a map drawn when he was in office (1812), the creation of which was felt to favor his party; the map (with claws, wings, and fangs added) was published in the Boston
Weekly Messenger
, with the title
The Gerry-Mander
and is shown above.
Even NC House Republicans have commented on how gerrymandered our city is. I don't know that it is, but it looks odd.
The Supreme Court declined to step in regarding gerrymandering on a state level (https://www.newsobserver.com/news/politics-government/article231403213.html) so I don't see any cavalry coming to save us.
Why is the map like this? There are a lot of thoughts from a lot of people, but most seem to settle on this fact: It concentrates the majority of African Americans into one Ward. I don't know if that is why it looks like this. It could be something much more innocent, regarding the way the city grew, or something of that nature. I'm finding it very hard to get an answer.
I'm told the city has an outside source redistrict after ever census, and there is a new one in 2020. I haven't been able to verify this.
What do you think?